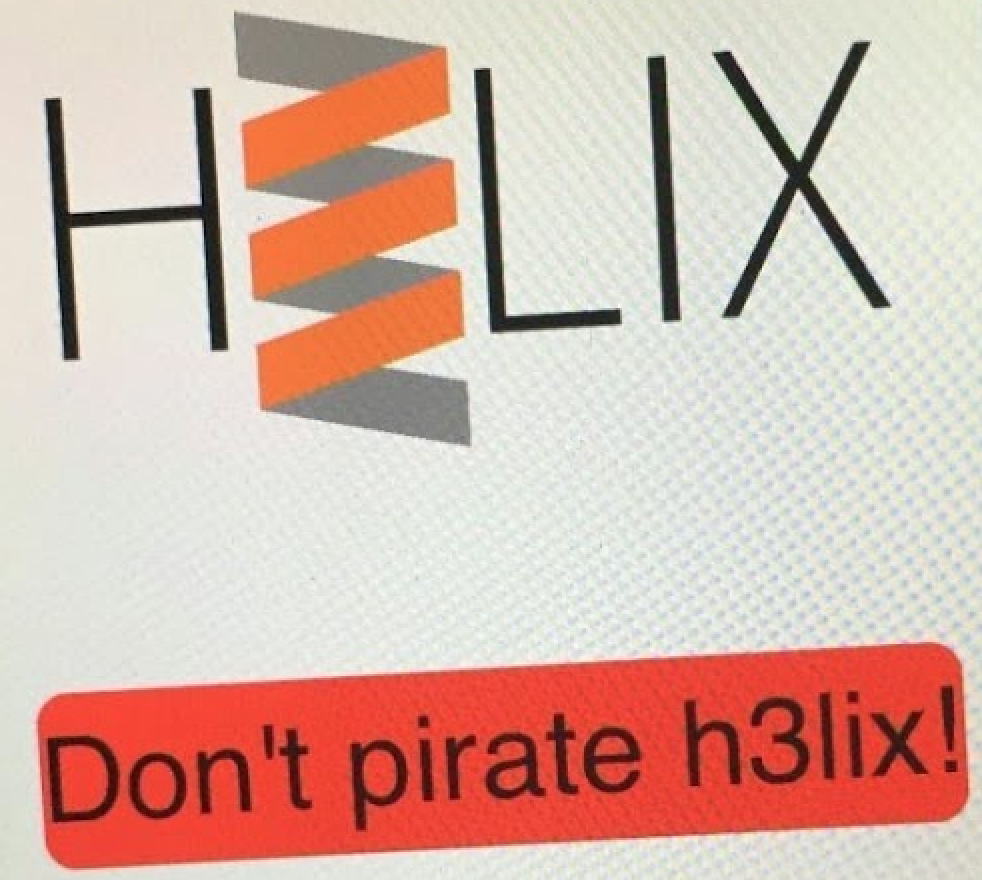 Installation
Get the IPA.
Take a shower.
Prepare offerings.
Provide your Apple ID, Mother's Maiden Name, and SSN.
Do some stuff with Cydia Impactor.
Resign the app with ios-app-signer
IMPORTANT: make sure you have at least THIS version
IMPORTANT: make sure to enable "No get-task-allow" option!!!!!!!

Install the IPA. I recommend ideviceinstaller
Presse the only button in the app.
Wait until it's done.
Profit.
Changelog
RC6:
added support for 10.3.4

RC5:
fixed a bug related to programs requiring JIT

RC4:
fixed crash on patching amfi on iOS 10.0.2

RC3:
added support for iOS 10.2
only running exploit if system was up for at least 80 sec
running uicache manually form the app clears Cydia caches

RC2:
fixed JavaScript bug

RC1:
initial release
Hashes
-----BEGIN PGP SIGNED MESSAGE----- Hash: SHA256 h3lix hashes signed by tihmstar: 563c91d6bbebbb8473955126d5ed322e9e8b4d0ea177e39041620ccaaf39c13d h3lix-RC6.ipa 9782d39b4fd6d91d4ea0326a8819d7e83100aac3891e89faaba908128f46fef1 h3lix-RC5.ipa a8aa79eb526033fffa86278ca8ad32aef19c1b8f358b5ef7bdfeb09344a45b3a h3lix-RC4.ipa b35ca2c2c8173779d883e45e9e6ed8a2e949514489e623b31d9460b9221f765a h3lix-RC3.ipa 15939b86bcdc7c05c768e8a1f16dce0dba7f407812b4bf5f000abf39707d6765 h3lix-RC2.ipa da4fa22518fbfa4c0bcc4df73c027d1c90a717fb9cf12161b50bd5cf2ba5c71a h3lix-RC1.ipa -----BEGIN PGP SIGNATURE----- iQIzBAEBCAAdFiEEmxeIwYCigHP4KsZxKkCxGnAkWoUFAl023N8ACgkQKkCxGnAk WoWbrQ/8CqbVzqGjTg+Nrsykyu+dp10jOlur0rum4YLpf5iPzGppoyfjKJxuPbBp qsEMONgUAWeg+Tz7dxwddbwwH0/pEL5ivRMjuQwPWuvkmPV2VgkR0lhMjSF3XMQC aEUITLEbpr/8uXZPbL4UXkF5yLQcAVMzMW7Rtii7bWBO3L+P06r0kbIzURNbQZ0l d/L4fNCd8her9JNts0G0dARSR6j6nsox+smJt2y+RTwLdDJ9PpTf87B0+5pLV9us dAZBjnlZsQ8MnakZX2dRR7Y9O9vqZb2rzyvSMpSM1iBwpVtfsdq5gJ3sez7DPdZd rJUQIgihXoN+IM5n9xgYwIXgYKrDjpEde2DWCLaBJcaMQ8/iK5+at9vTe9ftePzY Rknh1aLh5Onk7tAimlDeXBqYKLLRJD59YMT69KmM8paj65JO31WITY4rCRABn4/J V64EXTiZ38Utg71051Ms/1Pdj7z2yrLB5gFmHMC03pYo+GmEVf2H0eKaGql/TEpG 1rTN9esb0PYmuUFwhffe9QuuxTXlG0pC0hTPlqJxWuAuO7Jh9Xh7CW27RqkAs+xc Ouf+zjcApv6usdMCm+OQYRM2DkoMMdym5BC/bV/D3iWfDHBAs0aZwq1GPl9w55BP DwAoNcicwgn/me8PKawofu75ZjgTUpqcBkuDavsna+tQKoORT00= =hrrl -----END PGP SIGNATURE-----
Jailbreak by tihmstar and siguza
Graphics by @FoxletFox
Logo concept by Jacky C